News from Pont des Arts
Find all our latest news, details of events and partnerships and press articles that talk about us…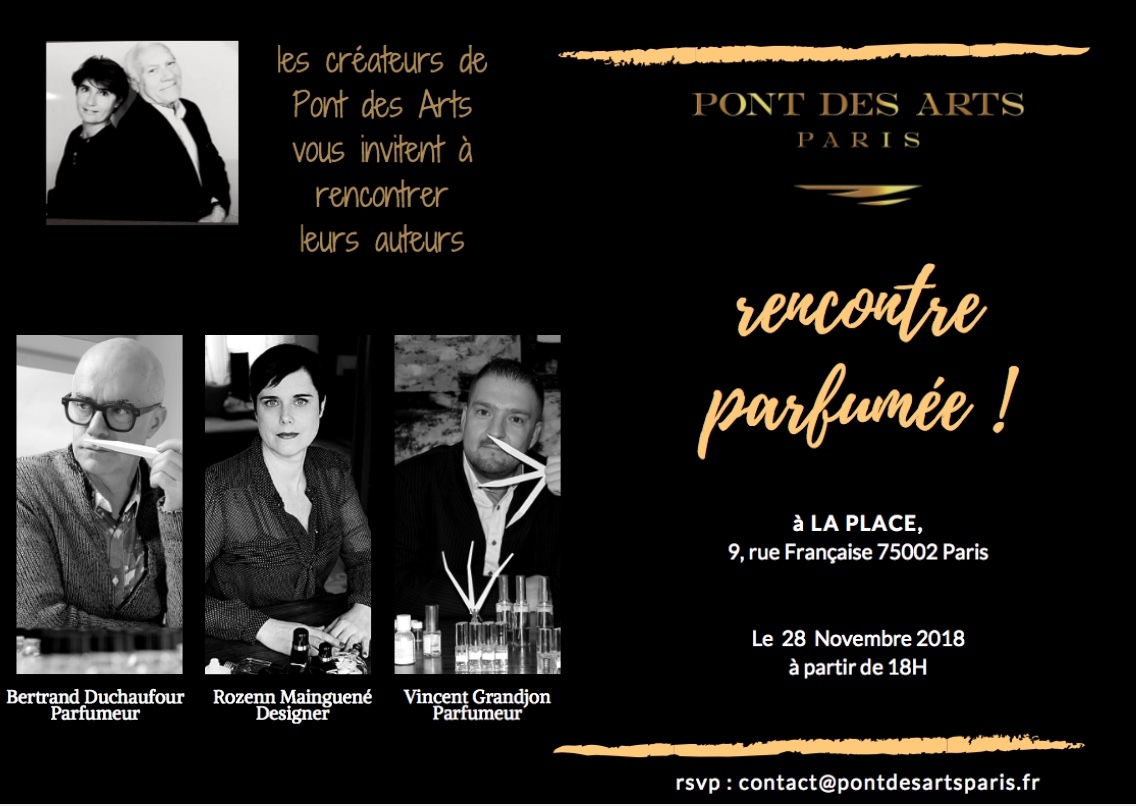 November 28, 2018  – Scented encounter
Pont des Arts designer perfumes is celebrating its first year of launch and marketing at the "La Place" concept store.
Around a glass in this new Parisian place, which mixes artistic creations and rare perfumes, the exchanges will focus on the themes of the place of a new French perfumery, in the tradition and the modernity of the elegance of the eternal Paris, the craftsmanship and crafts.
The founders of Pont des Arts will talk about the genesis of the brand, the various creations and collaborations for its realization and will make a point on the first distribution agreements.
The two "noses", independent creative perfumers with whom the first fragrances were created, Bertrand Duchaufour and Vincent Grandjon will present their respective creations.
Also present will be Rozenn Mainguené with whom the final design of the cap, the trunk and the staging of the website have been realized
RSVP (limited places : contact@pontdesartsparis.fr)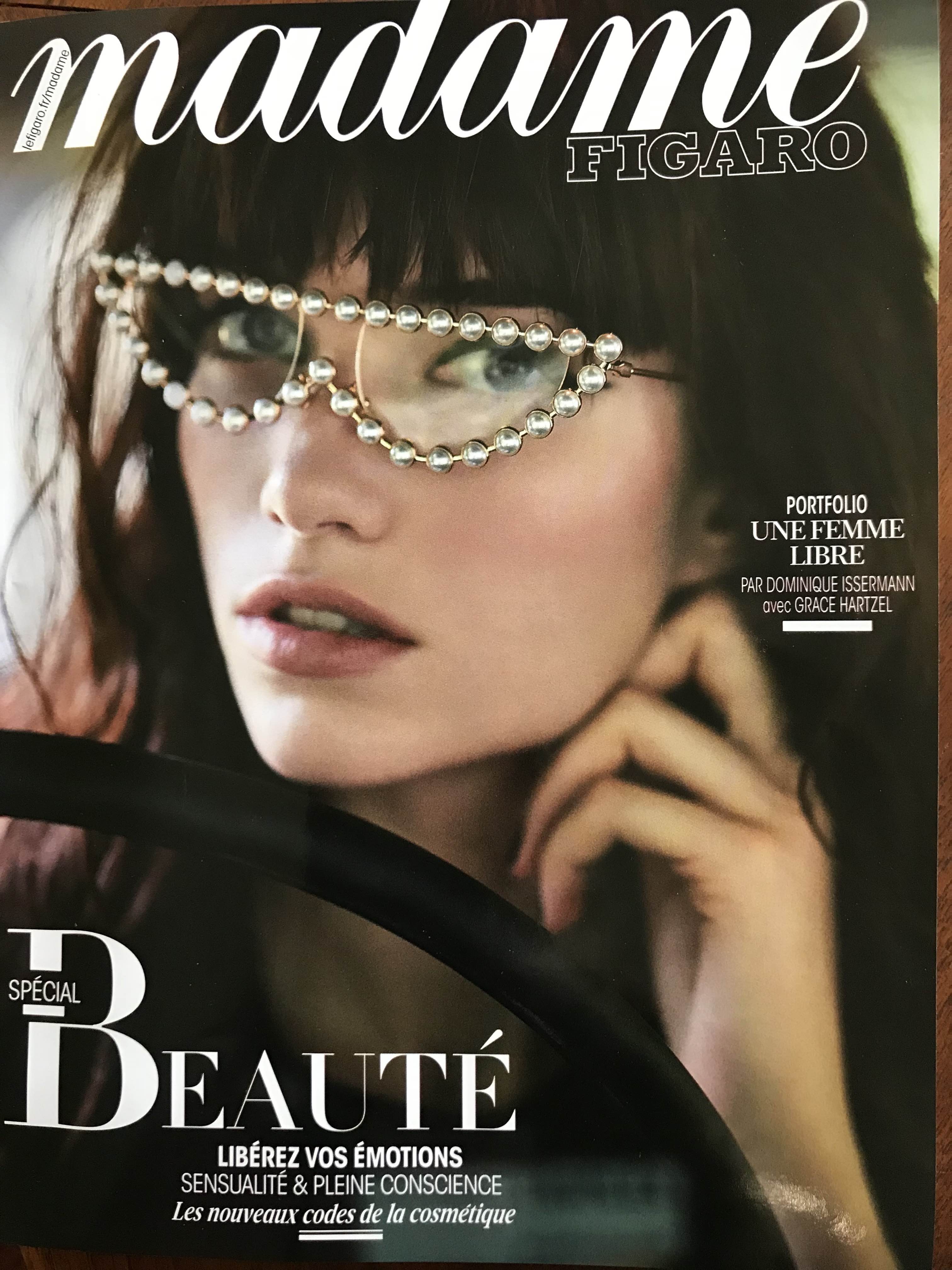 October 26-27, 2018  – Madame Figaro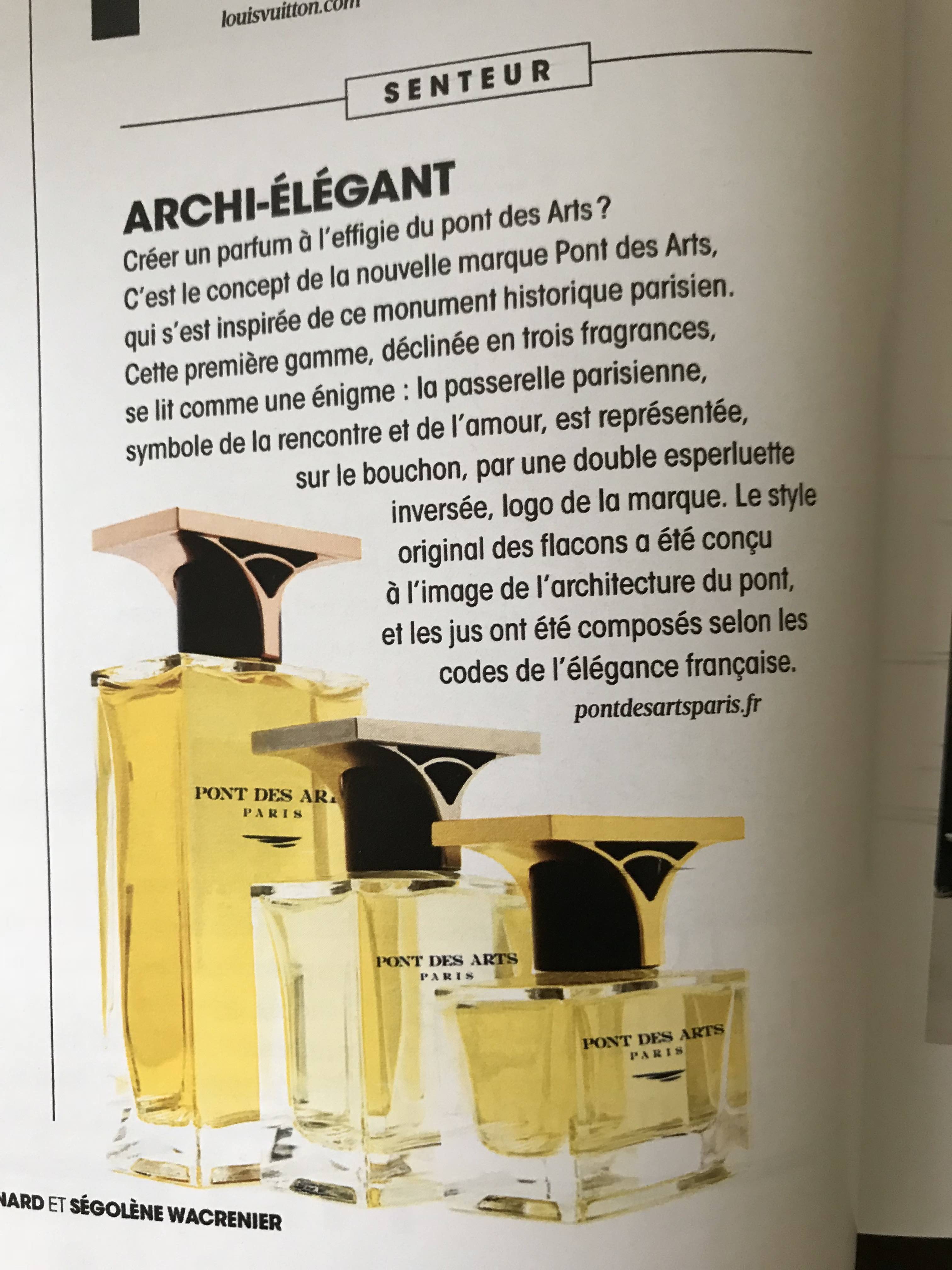 By Clémence RENARD and Ségolène WACRENIER – Madame Figaro N°23080 & 23081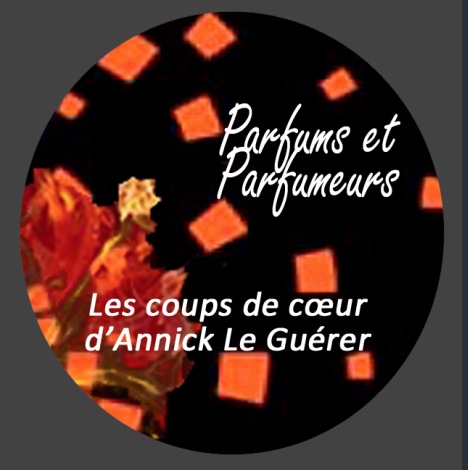 October 21, 2018
Annick Le Guérer heart stroke
Annick Le Guérer, Anthropologist, Philosopher, Historian, Writer of Odor and Perfume gives us her favorites of perfumes. The Pont des Arts house with its first 3 fragrances À ce soir, À chaque instant, On s'était dit were selected and it goes straight to the heart !
en savoir plus : annickleguerer.com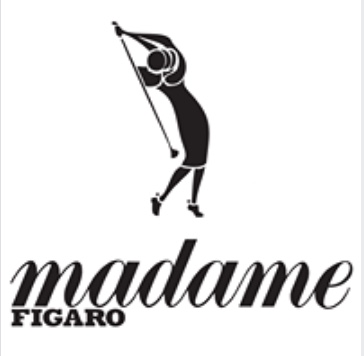 October 8, 2018 – Evian Resort Golf Club

September 11, 2018 – Parc Robert Hersant Golf club
Pont des Arts present at the Madame Figaro trophy, at Parc Robert Hersant Golf club and the final at the Evian Resort Golf Club …
On this occasion, the creators of the brand will give a "surprise prize" to the winner designated by the Madame Figaro Trophy in Hersant, and the "prize of elegance" during the final of the Trophy at the Evian Resort Golf Club.
Find more information : Trophée Madame Figaro à Hersant
Find more information : Trophée Madame Figaro à Evian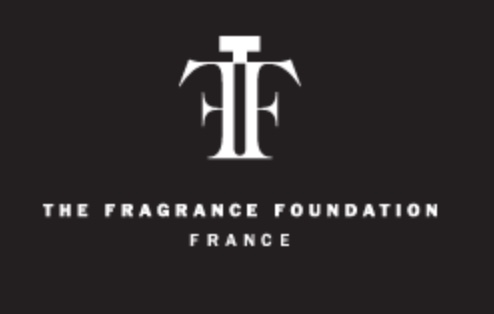 Juillet  2018
Pont des Arts" designer perfumes are now members of the French Fragrance Foundation…

 
The Fragrance Foundation's stated mission is "to inspire the world to discover the artistry and passion of fragrance", showcasing the finest talents and creativity of the world of perfumery, promoting its cultural and artistic values and its professional expertise and spreading the word about fragrance via a range of actions aimed at professionals but also the general public.
A non-profit organization (1901 decree), The Fragrance Foundation France is the Gallic arm of The Fragrance Foundation, an educational trust founded in the United States in 1949 by Chanel, Elizabeth Arden, Helena Rubinstein, Coty, Guerlain and Parfums Weil, with a view to increasing awareness and understanding of the fragrance industry and its different fields of expertise.
For close on 25 years now, the Foundation has hosted the annual FIFI awards ceremony, with prizewinners being chosen by a jury of Experts (journalists, assessors and bloggers) in recognition of the finest fragrances produced by a niche brand and the best collection from a major brand.
In June 2015, the Foundation also organized a large-scale exhibition in the gardens of the Palais Royal in Paris, curated by Sabine Chabert, Associate Director of the Foundation and Isabelle Ferrand, CEO of Cinquième Sens. Entitled Le Parfum dans tous les sens, the exhibition presented both artistic and educational input, blending photographs with informative panels providing an insight into the different professions within the fragrance industry.  A documentary record of the exhibition, with all of the aforementioned visual content, was published at the end of 2016.
Find more information  : French Fragrance Foundation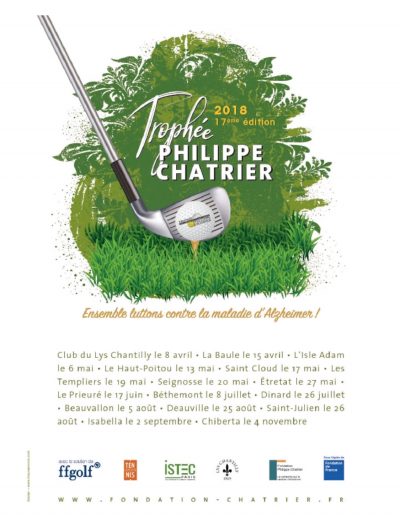 November 4, 2018 – Chiberta Golf club

September 2, 2018 – Isabella Golf club

August 25, 2018 – Barrière Deauville Golf club

June 17, 2018 – Prieuré Golf club
Pont des Arts is a partner of the Philippe Chatrier trophy for the Philippe Chatrier Foundation for the research of Alzheimer's disease.
The Philippe Chatrier Golf Trophy is a charity organized in the form of a friendly golf competition. All the profits collected are reserved to the Philippe Chatrier Foundation, operating under the auspices of the Fondation de France for research on Alzheimer's disease. Pont des Arts will give perfumes the winners of some of the competitions organized in 2018.
Find more information : Fondation-Chatrier.fr/ trophée Philippe Chatrier golf
May 23, 2018
In the 2018 Mother's Day selection
OSMOZ has selected for Mother's Day our perfume À ce soir. Thanks to the editors of Osmoz and Sophie Normand for her review :
"Offrez-lui un parfum rare et confidentiel
À ce soir, Pont des Arts
Un sillage solaire et sensuel dont la dimension vanillée nous embarque pour Madagascar. Ultra niche, ce parfum que vous ne risquez pas de croiser à tous les coins de rue,  mêle l'élégance à la sensualité, avec ses notes vertes, florales et orientales. Une partition gorgée d'une lumière dorée, qui insuffle au thème de l'oriental une fraîcheur herbacée grâce au lentisque et aux notes foin du narcisse. Le coeur s'épanouit dans une langueur des plus suaves, autour de l'ylang-ylang et du jasmin, pour se fondre dans la chaleur des baumes (vanille, tolu, benjoin…). Addictif et voluptueux."
source : Osmoz.fr

May 15, 2018
Discovering the brand

Pont des Arts…

(concours)

Lovers of rare perfumes will have the pleasure of discovering this new and elegant brand where Paris, the scents of nature, sculpture and beautiful stories are inviting. We met the creators of Pont des Arts, Géraldine and Bernard S.

Read more here on Parfumista.net

May 4,  2018
The genesis of a brand Pont des Arts…and the interview
It's a special series of articles that I start here. I propose you to discover with me the birth of the creation of a very recent perfume brand: Pont des Arts.
Read more here on Olfaction(s), Carole 's blog, passionate about perfumes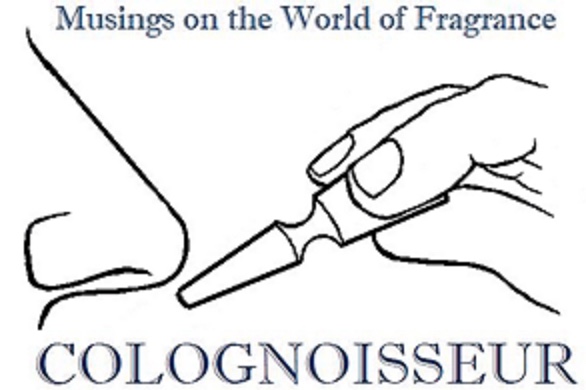 April 26, 2018
New Perfume Review Pont Des Arts A Ce Soir-Repurposing Bertrand Duchaufour
"Bertrand Duchaufour is one of the most prolific perfumers of the past ten years. That he is also among our best perfumes while being this productive is also something to admire. It is now getting to the point where it becomes difficult not to see pieces, or accords, of previous compositions within new ones. That could be seen as a flaw, but I don't think it is as easy as picking one from Column A then B then C, et voila! I choose to see it more as a concept we use in drug discovery known as repurposing. When there is a new drug which works via a new biological mechanism there is an effort to see if there are older drugs which might combine with it to make it work better.  M. Duchaufour is responsible for two of the three debut fragrances for a new line called Pont Des Arts. I received a sample of A Ce Soir in a subscription box. As I tried it out it was hard not to think that M. Duchaufour was repurposing some of his best accords to create a new effect.
Based on the website husband and wife, Bernard and Geraldine S, are designing fragrances meant to be Parisian in style. Which is why the brand is named after the famous bridge which until recently was covered in locks which represented lovers' commitment to each other. They also want perfume to be a bridge of the senses as the Pont des Arts is the only dedicated pedestrian bridge over the Seine. They only used French perfumers for their debut collection which made M. Duchaufour almost a shoo-in to be asked.
I found it interesting that in the accompanying brochure in the subscription box that the writer describing A Ce Soir also found echoes of previous releases by M. Duchaufour calling out L'Artisan Havana Vanille and Penhaligon's Ostara. Which makes it interesting to bring back pieces of those now-discontinued perfumes. There are similarities, but I found a stronger through line as I wore it which knitted this together more seamlessly than a collection of pieces.
A Ce Soir opens with a lens flare of lemon and mandarin. Then a slowly intensifying thread of green begins with bamboo providing the first hues. One of the things M. Dcuhaufour has become very good at is a boozy top accord. Here the rum slowly decants itself over the citrus. Cinnamon provides warmth to the alcoholic nature. The green is notched up another level via blackcurrant bud. This leads to a fantastically narcotic floral heart accord centered on narcissus. Narcissus is made more sensual by swirling in ylang-ylang. M. Duchaufour has made these kinds of carnal floral accords in the past; this is another one. Then like sharing a dessert after the carnality the base accord is all comfort as rich vanilla is used surrounded by benzoin and amber. Vetiver completes the green thread as it anchors the entire effect.
A Ce Soir has 12-14 hour longevity and average sillage.
I think you can focus on what A Ce Soir reminds you of from M. Duchaufour's past. I think that does this a great disservice as M. Duchaufour has blended his past into something entirely new, well worth enjoying on its own terms.
Disclosure: This review was based on a sample received in a subscription box."
Mark Behnke –  blog Colognoisseur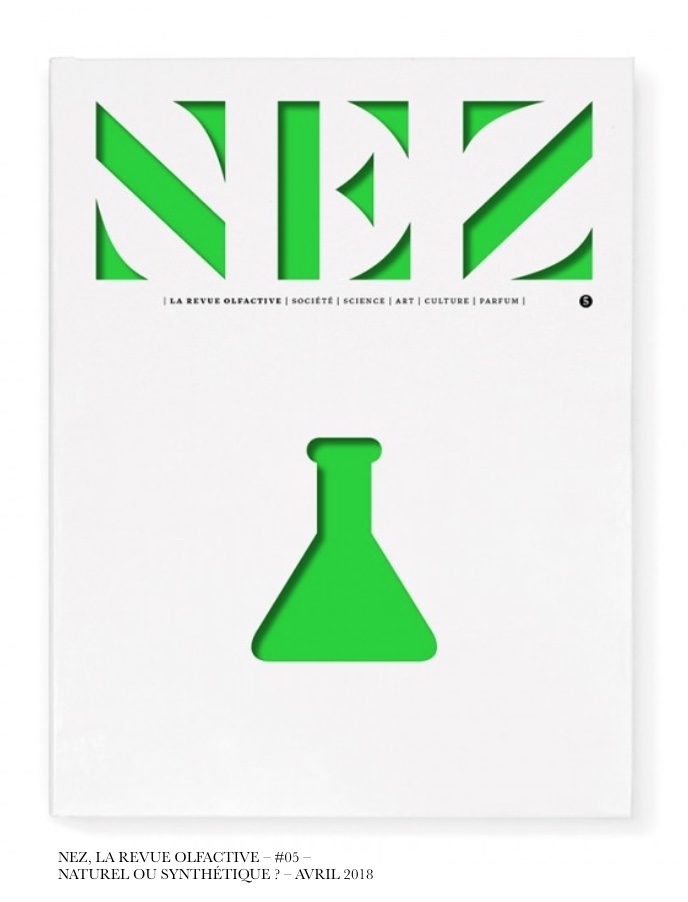 April 12, 2018
À ce soir – Pont des Arts is in Nez n°5
Nez la revue olfactive has selected among the novelties launched since September 2017, 30 perfumes including À ce soir. Thanks to the editorial staff of Nez la revue olfactive.
source : NEZ, la revue olfactive

April 6, 2018
My Top 10 Scents of Spring: #NoFilter Frags & Witchy 'Fumes by Denyse Beaulieu
The sexy one:
 À ce soir by Pont des Arts
Bertrand Duchaufour calls it a vanilla blossom, but to me, it brings together three scents that were summarily ejected from the L'Artisan / Penhaligon's catalogue. Havana Vanille's fresh tobacco leaf and rum chica-boom sensuousness, matched by the hay, honey and pollen-dusted daffodil of Ostara (though the green here is more sap than hyacinth), with a dash of Amaranthine's lush ylang-ylang. It's pretty much got my heart in a love-lock. Who knew I'd fall for vanilla?
source : Graindemusc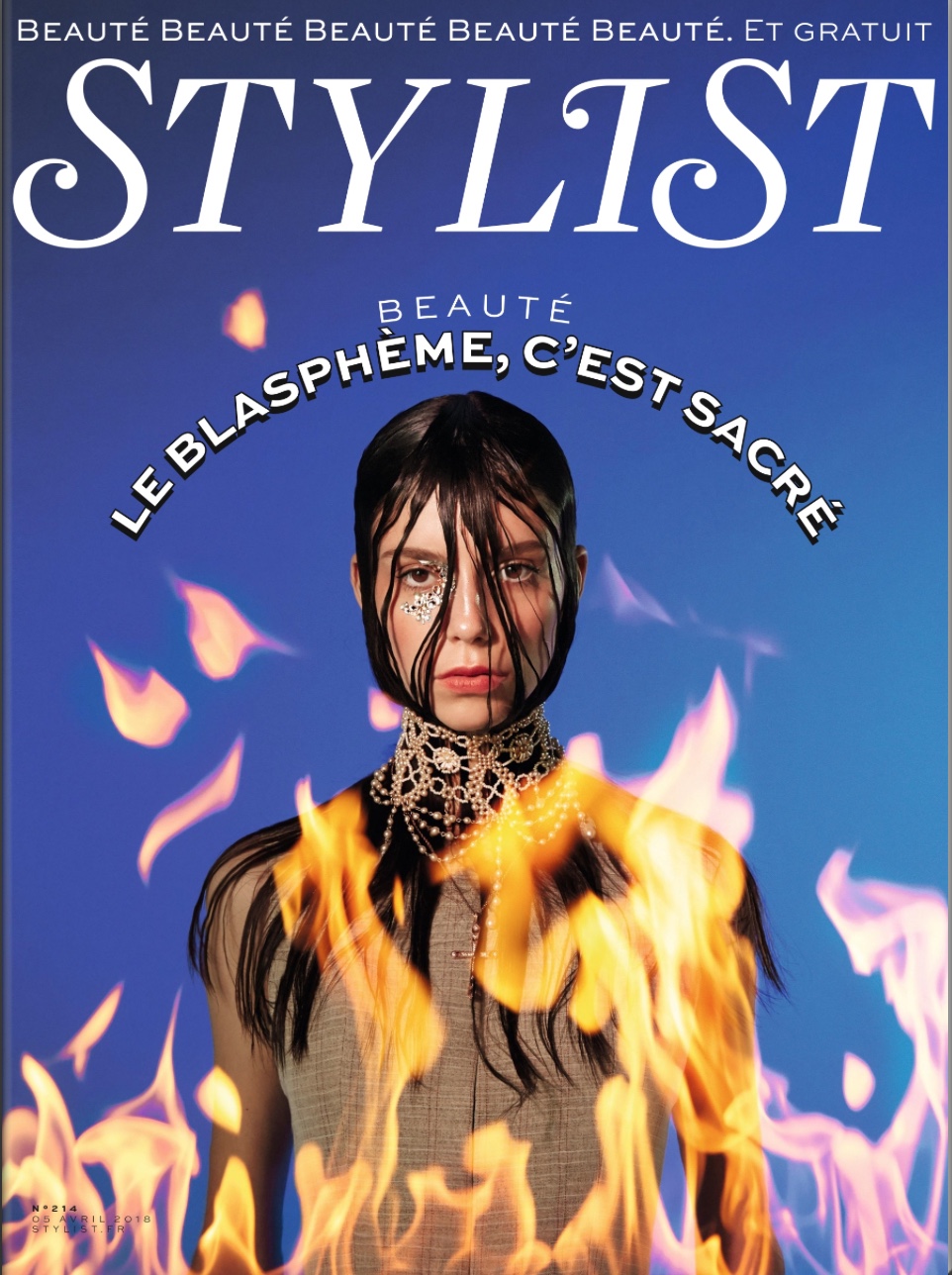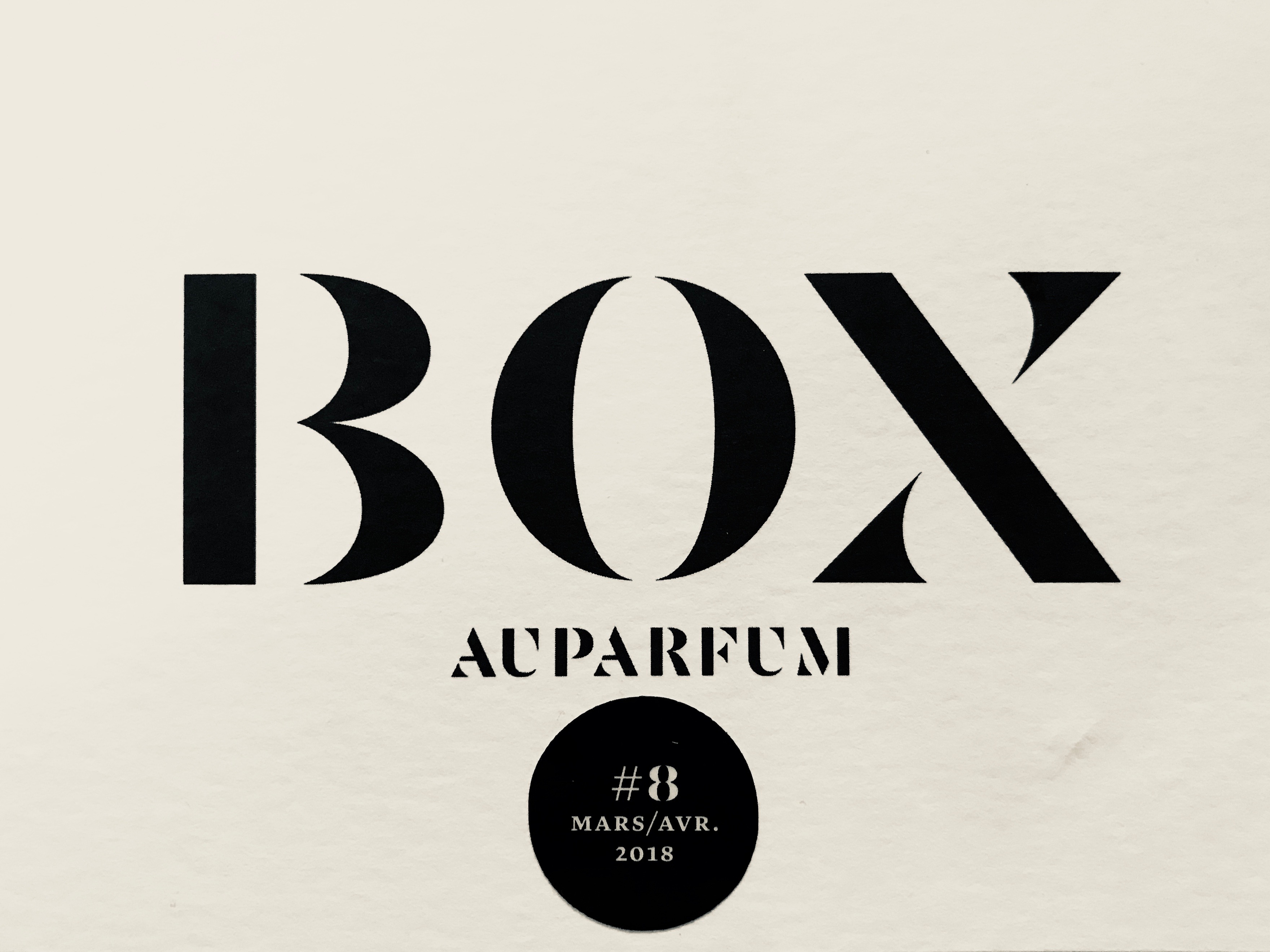 Mach-April 2018
À ce soir – Pont des Arts is part of Auparfum's editorial selection and is present in the Box Auparfum N°8
Review by Denyse Beaulieu
(rédactrice pour Nez, la revue olfactive)
Rencard à Madagascar
Tu sens bon, tu sens quoi ? En répondant à cette question, gare à l'imbroglio : on croira que vous filez un rencard. Solaire sans vahinés où s'épanouit une époustouflante absolue de vanille de Madagascar, À ce soir pourrait d'ailleurs être le fruit d'une rencontre entre deux parfums conçus à quelques pas du pont des Arts, dans l'ancien labo de Bertrand Duchaufour. Comme si, rien que pour le plaisir de faire une rime botanique riche, sa jonquille d'Ostara (Penhaligon's) avait fécondé son Havana vanille (L'Artisan parfumeur). De l'une, À ce soirtient ses accents caraïbes de rhum et de feuille de tabac fraîche ; de l'autre, son pollen en pluie d'or et les senteurs de fenaison du narcisse. C'est le long d'une piste olfactive qui partirait des sables de Chaldée pour aboutir au colossal Dune que fleurit cet oriental vert. Un rendez-vous, donc, à ne pas manquer.
Parfumeur : Bertrand Duchaufour
source : Auparfum

March 2018
À ce soir (Pont des Arts)
Une invitation ? Au romantisme, oui ! La nouvelle marque de niche Pont des Arts tire son nom du célèbre pont des amoureux sur la Seine. À ce soir est un floral oriental poudré créé par le parfumeur Bertrand Duchaufour. L'ylang-ylang et le narcisse s'enrobent de vétiver et d'ambre mais aussi d'épices chaudes et d'un soupçon végétal. Comme son nom l'indique, parfait pour le soir !
source : Parfumista.net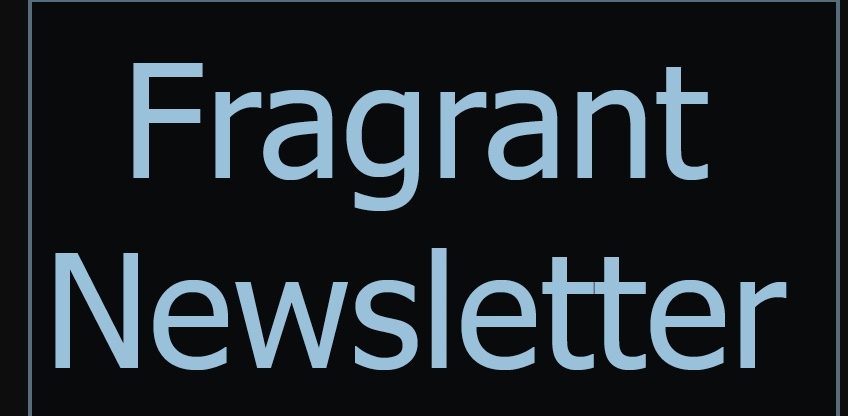 February 2018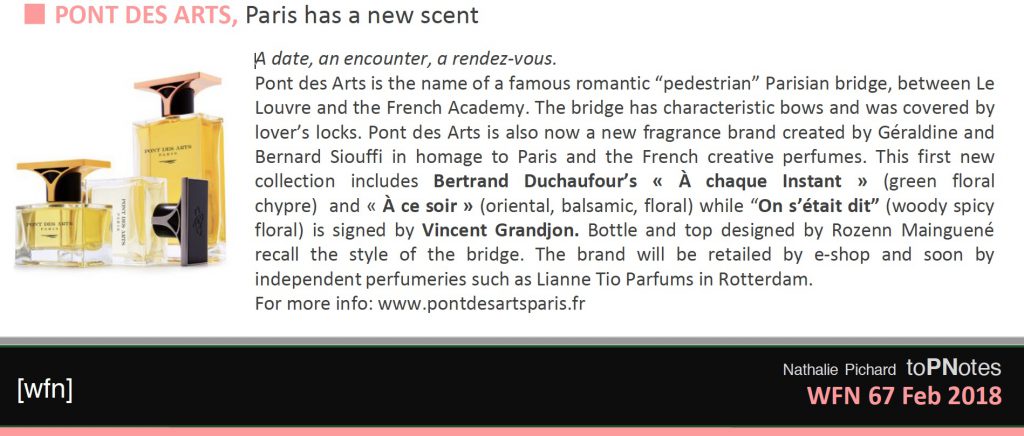 November 2017
When 2 brands carry the values ​​of elegance, know-how, creation and modernity … they come closer …
Panoply is an original concept "rent fashion haute couture" whatever the occasion "by unit or by subscription so that the creations and collections of the great couturiers can be worn daily.
Because, like a perfume, "a dress is not just a garment … and does not just dress … it's a message, a code, a way of inhabiting the world and sharing with others. "
Come and discover in their showroom, rue Royale in Paris 8th, their new collection of designer clothes and take the opportunity to feel the first three fragrances of Pont des Arts designer perfumes by leaving with your sample.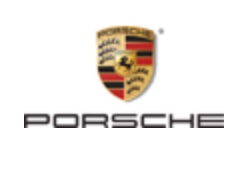 June 8,  2017
Immerse yourself in the Classic world … The Porsche Center Bordeaux invites its customers and partners to a unique moment through an exhibition dedicated to history-laden cars from the Porsche Museum in Stuttgart. Visit of the workshops, discussion with the technicians and other eclectic animations await the guests to live a typical Porsche evening in a moment of exceptional conviviality. Pont des Arts designer perfumes  will be present at this event, where you can do the "full of the senses" by discovering our three new fragrances, made with the same quality requirement as this brand …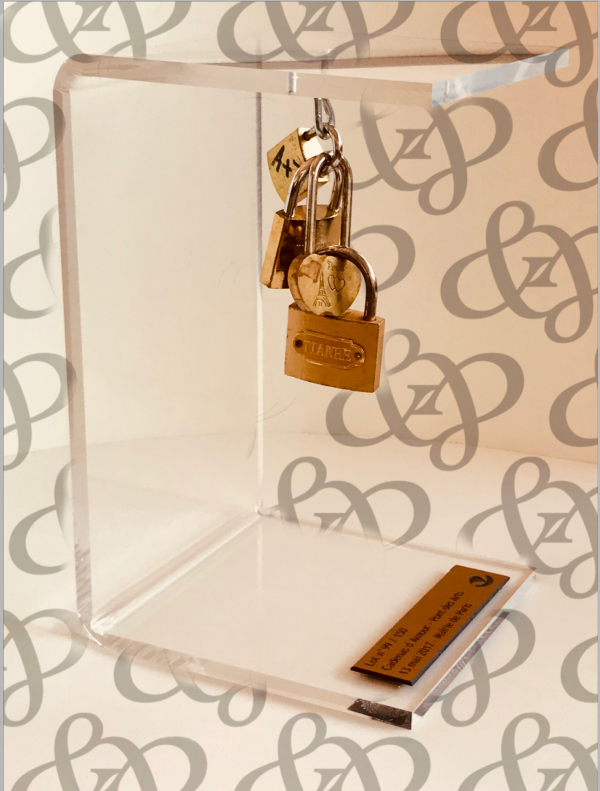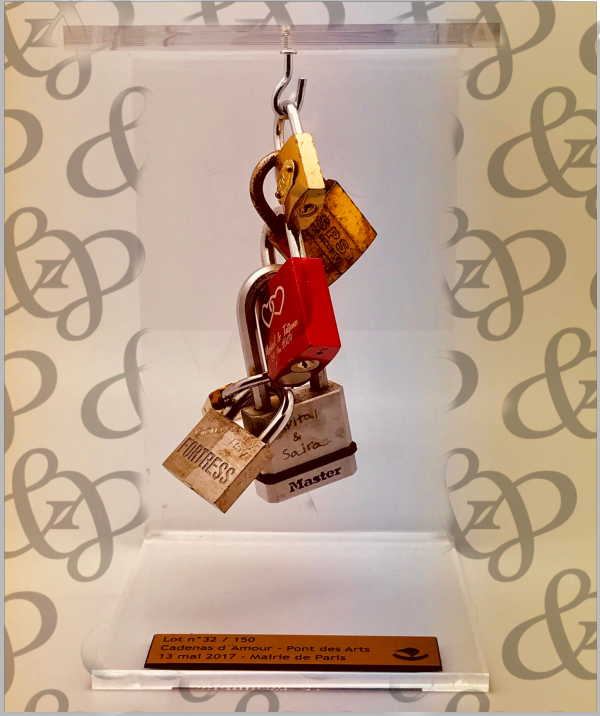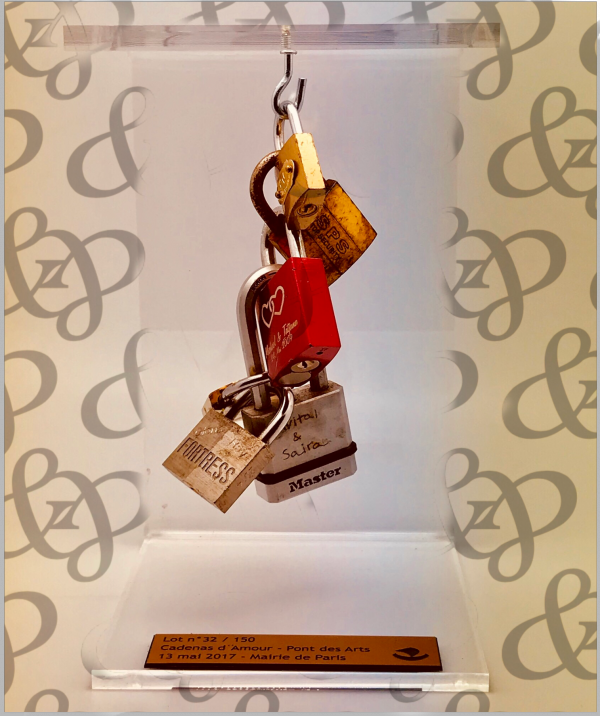 May 13, 2017
Pont des Arts, Designer perfumes participated in the "solidarity sale of love padlocks" of the city of Paris. A way to keep some "pieces of Paris", a "little piece of heritage" and especially some "metal proofs of love", removed from the "Bridge of Lovers" in 2015.
The sale was a great success with more than 400 subscribers (Americans, Italians, Brazilians, Taiwanese Asians, Korea, China, Japan) connected to the auction or in the room of the Credit Municipal de Paris. This is how 150 "clusters" of padlocks highlighted "on Plexiglas plinths, but also in wood like the bridges and pedestals paved in Paris" says Mathilde Belcour-Cordelier, Assessor of the sale, and 15 Locking grids were auctioned by the City of Paris.